U rubrici Street style svaki tjedan predstavljamo vam novo, zanimljivo lice i nije nam bitno jeste li mladi ili stari, furate li elegantni ili rokerski stil. Bitno nam je da ga imate, da ste svoji i da vas nije briga što drugi misle ili pričaju!
Upravo je takva i Jagoda Ernoić koja je, kako nam je sama priznala, uživala u suradnji s portalom Bjelovar.live.
Život mi je glazba
Mnogi prohodaju prije nego progovore, a ja sam s nepune tri godine, propjevala 'I Will Always Love You' velike Whitney Houston, što je mami već tada bio znak da me usmjeri u glazbene vode. Paralelno uz gimnaziju, završila sam i srednju glazbenu školu-smjer klarinet. Osvojio me toplim drvenim zvucima prilikom jedne produkcije Glazbenog tjedna u Bjelovaru- rekla je Jagoda.
Također, istaknula je da je tijekom studija u Zagrebu postala članica pjevačkog zbora Filozofskog fakulteta u Zagrebu, Concordia Discors s kojim je puno putovala po različitim natjecanjima, smotrama, od kojih je izdvojila nastup na Europe sings (Euroviziji zborova).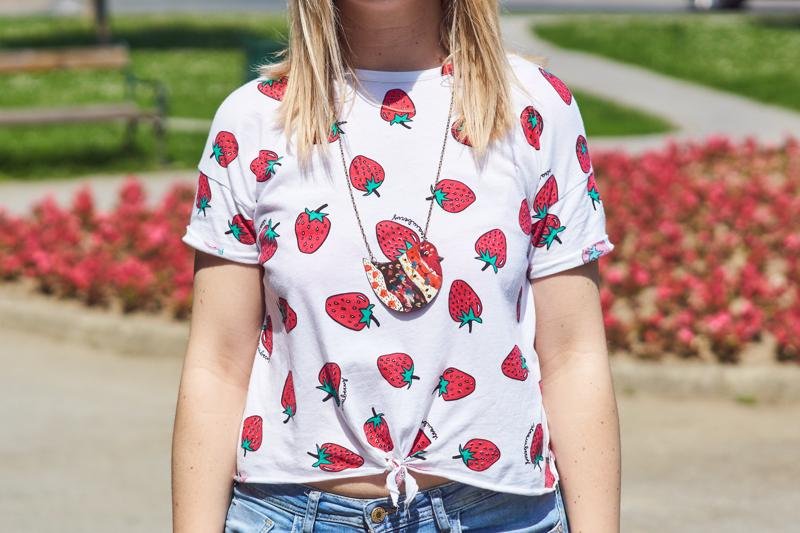 Jagoda je trenutno apsolventica Filozofskog fakuteta u Zagrebu, a istaknula je da joj je tema diplomskog rada  "Muzikoterapija u razvoju govora" gdje se i vidi u budućnosti, točnije, u radu s djecom kao fonetičar-rehabilitator, stručnjak za rad u ustanovama za dijagnostiku i rehabilitaciju osoba oštećena sluha i govora.
Trbušni ples, pjevanje, bakin vrt, Beatlesi…
Zamolili smo Jagodu da nam kaže nešto i o svojim hobijima i zanimacijama kojih ima uistinu puno!
-Srce mi je podijeljeno na dva dijela i kuca na relaciji Zagreb–Bjelovar. Vikendima uživam u društvu svojih Bjelovarčana, a tjedne u Zagrebu provodim na koncertima, predstavama i šetnjama po gradu. Guštam u ispijanju kava i dobrim izlascima s prijateljima, a najopuštenija sam u bakinom vrtu. Plešem trbušni ples u plesnom studiju Nefertiti, alt sam u bjelovarskom ženskom zboru Vox feminae, a ostatak vremena provodim na društvenim mrežama, gdje skupljam inspiraciju za putovanja te kulinarske i modne kombinacije. Htjela bih spomenuti i da sam veliki ljubitelj Beatlesa, a svoju ljubav prema Beatlesima ću upotpuniti putovanjem u Englesku sredinom lipnja–kazala je simpatična Bjelovarčanka.
Jagodin stil–spoj znatiželje i razigranosti
Jagoda nam je vrlo rado objasnila svoj modni izričaj, koji je prošao uistinu razne faze.
Oblačim se eklektično. Nazvala bih to spojem znatiženje i zaigranosti. Od osnovne škole do faksa sam prošla različite stilove, a neki od njih su štreber-stil odijevanja, Harry Potter stil, reperica stil, Avril Lavigne s kravatom stil, 'ništa osim roze u ormaru stil', neke klasične varijante… preusku, preširoku odjeću, tako da, ako imate tematski party- možete zaviriti u moj ormar, za svakog će se naći ponešto- kazala je kroz smijeh Jagoda.
Također, priznala je da je čest posjetitelj highstreet dućana, da vrlo rado online shoppingira te da često prosljeđuje linkove prijateljicama kako bi komentirale najnovije kolekcije.
-Oči i srce kažu "treba ti sve", a novčanik kaže "budi pametna" i na kraju se nekako uspijemo dogovoriti na obostrano zadovoljstvo. Volim isprobavati odjeću bez kupnje, jer je zabavno, a jednog dana bih htjela i naučiti šivati, jer sam već vidjela par krpica koje bih mogla i sama iskrojiti, možda malo poboljšati, prilagoditi sebi i pritom uštedjeti–iskrena je.
Osmijeh i samopouzdanje
Upitali smo Jagodu što joj se sviđa od trenutnih trendova, koje trendove ne voli, što najviše voli vidjeti na drugoj ženi, a što na muškarcu…
-Od trenutnih trendova bih mogla sve iskombinirati. Sviđaju mi se boje, volančići, asimetrični krojevi, poderani traper s uzorcima, resice, baršun, horizontalne i vertikalne prugice, točkice, gola ramena, cvjetni print, voćni nakit i torbice, platforme, šljokice, šarenilo. Ne volim vidjeti preusku odjeću ispod koje se nazire sve, prozirne naramenice, sjajne najlonke i neoriginalne i predvidljive kombinacije. Na ženi su najljepši modni dodaci osmijeh i samopouzdanje, a na muškarcu je to boemski šarm–kazala je.
"Tko tebe kruhom, ti njega kolačem"
Uzrečica je to, koju je Jagoda, kako kaže, naučila od svog djeda i istaknula da joj tada nije bila jasna kao danas. Za kraj intervjua Jagoda je čitateljima portala Bjelovar. live poručila;
-Želim prenositi pozitivnu energiju, iskoristiti svaki dan maksimalno i zarazno se smijati, pjevati, svirati, skakati, vrištati, disati punim plućima, raditi neočekivane stvari, grliti, ljubiti. Jednostavno živjeti–kazala je Jagoda. (ika)
Comments
comments